Bonnie is an
artist

in Encaustics, Printmaking & Pottery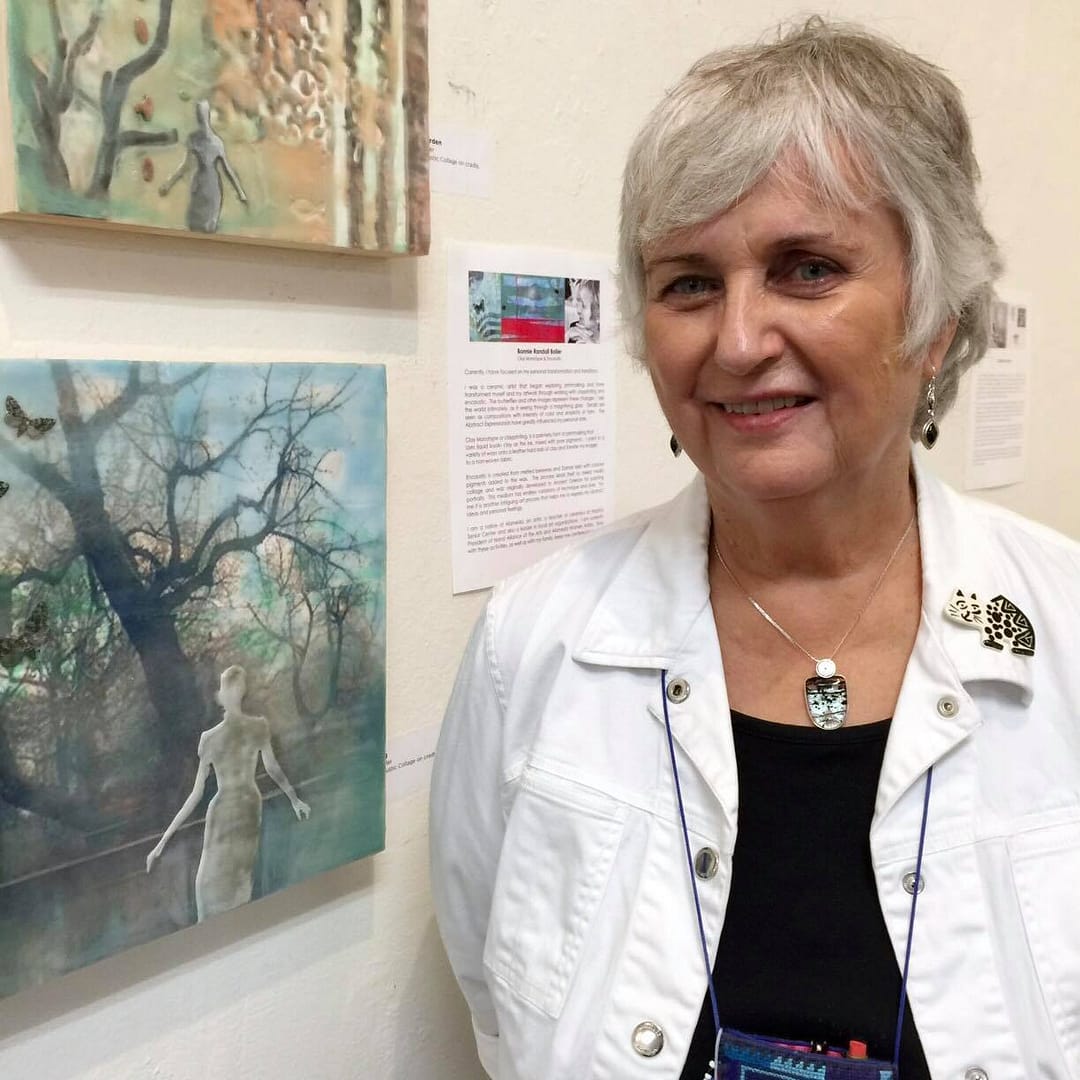 About the artist
Bonnie Randall Boller has transformed her artwork over her 40+ year career, by moving from ceramics, to a more pictorial style of artwork found in printmaking, clay monotype, encaustic painting and encaustic monoprints. Her unique way of seeing the world intimately, as if through a magnifying glass, has produced compositions incorporating an intensity of color, along with simplicity of form. The uniqueness and complexity of her work adds to the allure, while adding depth to the images.

Recently, Bonnie often includes black and white drawings into her encaustic works which tell stories about women, animals and the world. Her drawings are spontaneous images using a stylized and abstract technique. She feels these drawings have opened new doors of expression for her creative imagination, allowing for a dialog to develop with herself and her viewers. 
Bonnie is a native of Alameda, California, USA. She is an artist and was a teacher of ceramics at Mastick Senior Center and also a leader in local art organizations. She is currently President of the non-profit, Island Alliance of the Arts, and President of Alameda Women Artists, as well as a past board member and current member of California Society of Printmakers and The Association of Clay and Glass Artists (ACGA).
Biography
Bonnie Randall Boller, owner of Clay Art Studio, has been teaching pottery classes to children, teens, and adults since 1987. This self-employed artist has been the sole proprietor since inception, responsible for advertising, website design, bookkeeping, teaching, and all other areas of the business. She's also taught ceramics at Mastick Senior Center in Alameda for over eleven years, teaching over twenty beginning and intermediate students in each session. Bonnie retired from Mastick in 2022, but still teaches encaustic in her own studio.
"In the arts, it is difficult to make a living," Bonnie admits. "It's important to have other business interests or teaching to help support yourself and not sacrifice creativity because of financial needs."
Since opening her studio in the1980's, her love for creating art has brought her full circle and the success of her business has been most rewarding. After many years as a potter, Bonnie changed to clay-printing that uses liquid clay slip as the ink, printed on a non-woven fabric. Her images came from seeing the world intimately. The details of color, line, texture, and form developed in historical layers, relying on the influence of her spiritual and creative process and influenced by the Abstract Expressionists. Each print is unique and archival.
Since working in Clay Monotype and other printmaking, Bonnie has been exploring the Encaustic process. Encaustic is bees wax mixed with Damar resin and pigments added for color. Encaustic was developed in Ancient Greece for painting Fayan Mummy Portraits. This process has allowed Bonnie to explore painting, printmaking and multimedia. Bonnie also says that Encaustic has given her the confidence to create ink drawings which she sometime adds to her work.
In the late 1960s Bonnie earned a Bachelor of Arts in Art and a graduate degree, lifetime teaching credential, from California State University, Hayward. She taught third grade in a local elementary school for two years before deciding to leave the classroom to raise her two boys, Greg and Rob. While raising them, she actively volunteered as a ceramics instructor at her sons' schools.
Bonnie's internal drive to learn led her to get involved with numerous art associations, often serving on their board of directors either as president or secretary. She's founded a non-profit organization, Berkeley Foundation for the Arts in Berkeley, California, giving her insight into running other non-profit organizations. Bonnie is currently president of two art organizations. She's president of Island Alliance of the Arts, a non-profit organization that has sponsored Cross Currents exhibits. Bonnie is also founder and president of Alameda Women Artists. In 2011, she received the prestigious Alameda County Leadership Award.
Bonnie says, "In all this time, I remain humble to the realization that art is about the process of creation more than the finished product."